How to create a listing
Before you make your listing

Before you begin to make your listing you may want to check if your page will be rejected due to our guidelines.

Listing guidelines
1. Select Sign in in the menu bar.

2. Select Provider Updates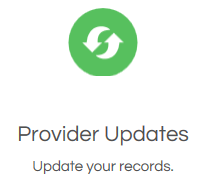 3. Select Create a new directory record

4. Fill in the fields. You will see that some fields are required.

5 Select Save Record.

Your record will now be awaiting moderation which can take up to three weeks.
If you have any further issues please contact us.