How to update your listing
1. Select Sign in in the menu bar.

2. Select Provider Updates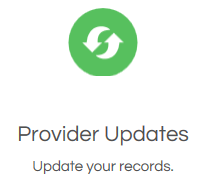 3. Find your Record Title and select Choose your action

4. Select Update record

5. On the 'Edit your record' page, check that your information is up to date then select Save Record.

You will still need to select Save Record even if there are no updates so that we know you have checked your listing.
If you have any further issues please contact us.